The Bank of Maharashtra recruits and publishes BOM SO Notifications to recruit officers in different specialized categories. The BOM SO exam is taken annually to recruit candidates for different posts in different areas. The BOM SO recruitment is carried out for managerial posts or technical posts.
Details on eligibility, the process of selecting a candidate, and important dates are mentioned in the below articles. A quick glance will give an idea in searching relevant job.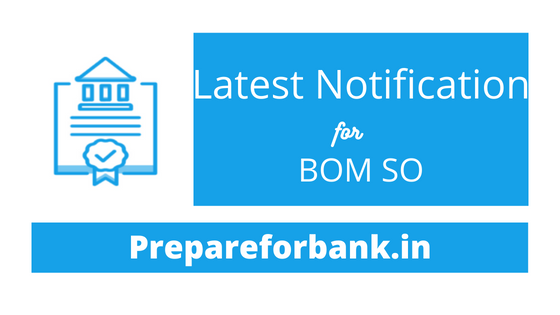 BOM SO Notification January 2023
The Bank of Maharashtra released BOM SO Notifications for various technical posts in January 2023. The BOM SO exam is conducted for the post of Special Officer. The notification contains all the details about the BOM SO recruitment such as the process, eligibility, and important dates.
Final Words
The Bank of Maharashtra has released its notification on its career website and invited the candidate to go thoroughly with the eligibility criteria and document requirements. It's very essential to be ready with all the required documents and cross-check their completeness before applying for any of the given posts.
The detailed advertisement can be found on the BOM Careers links: https://bankofmaharashtra.in/current-openings