Here is the Mock Test For Bank Exam along the lines of IBPS. Securing a job in reputed banks of India is a dream of many students. Every year lakhs of aspirants prepare for various banks like State Bank Of India, Bank Of Baroda, Punjab National Bank, Bank Of India, etc.
---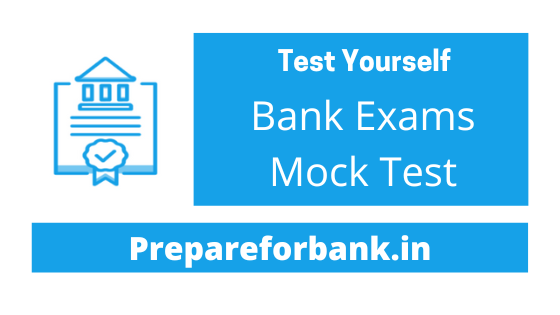 Aspirants who want a mock test for the bank exam must refer to the below exams. We recommended some exams for you.
SBI Mock Test
IBPS Mock Test
SBI PO Mock Test
IBPS Clerk Mock Test
IBPS PO Mock Test
IBPS RRB Mock Test
IBPS RRB Clerk Mock Test
SBI Clerk Prelims Mock Test
IBPS RRB PO Mock Test
SBI PO Prelims Mock Test
SBI PO Test Series
Topic Wise Mock Test
Online practice test series are an easy way to perfect your bank preparation. It helps you in improving exam preparation and understanding the exam pattern. Refer to below a topic-wise mock test for the bank exam to ace in preparation.
1. General Awareness
General awareness covers the news happening around the world. It is one of the scoring subjects in the banking exam.
2. Reasoning
Bank Exams Reasoning tests the critical thinking of the candidate. In this section, the organization emphasizes a lot.
3. English
English is the official language of most countries. If you're preparing for bank exams, English is important to learn because it also helps you in the exam as well as GDs.
4. Quantitative Aptitude
Quantitative aptitude is the most important section of bank exams. It tests the logical skills of the aspiring candidates.
---
Mock Test For Bank Exam
Here at Prepare For Bank, we offer various question sets with an updated syllabus and structure for banking aspirants. Consistent mock tests improve your chances to qualify for exams. Our mock test for bank exams helps you to experience and understand the recent structure of bank exams.
---
Importance of Test Series For Bank Exams
Banking exams are highly competitive and tough. As it results, aspirants, fail to understand the exam structure. So here at Prepare For Bank, we design mock tests in a way, where you can fully prepare for all banking exams.
---
Our Online Mock Test Series Features
Inspired by the online Mock test format provided by the IBPS. Here are reasons for choosing Prepare For Bank's mock test for the bank exam,
Affordable Price
Thoroughly Prepared
Covers all the topics
Time-bound practice test.
Refer & Earn
60+ Mock Sets
Updated Tests With Latest Pattern
24/7 Access
Improve Performance
---
Mock Test For Bank Exam FAQs
Is a mock test important?
Yes, absolutely. Giving a Mock test for Bank exam is one of the finest ways of self-evaluation. Prepareforbank.in providing one such tough mock test experience.
Can we attempt wrong and skipped questions in a particular mock test?
Yes, we can reattempt wrong or skip questions in a particular mock test.
How can I access the Mock Test on the website?
Click here to register yourself and start giving the mock tests.
How many attempts Mock Test Series provide?
There is no attempt limit on Mock Test Series provided by us.
What do we provide along with Mock Test Series?
Banking and Computer MCQs are also available to the candidates registered for the Mock Test Series. Apart from the Mock test you've access to all the content on the website.
How do I prepare for a mock test?
Prepare well from the syllabus and content provided for Quantitative Aptitude and Reasoning. Current Affairs, Banking, and Computer topics are also essential to cover and prepare for the Mock Test for bank exams.
How can I score good marks on a mock test?
Prepare well and the more you practice for the mock test for bank exams the more you will score.
---