Refer & Earn, is a benefit-sharing program with all the aspirants who bring in their friends to join our paid programs and get benefits out of it. In this article, we'll explain how our refer & earn program works.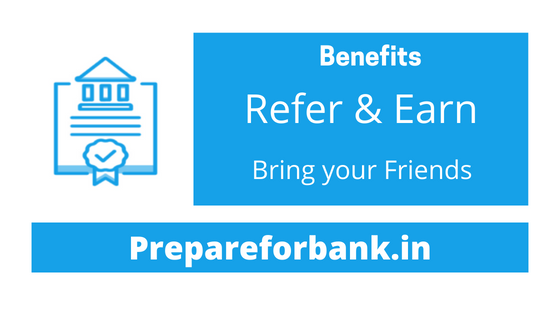 What is Refer & Earn?
We at prepareforbank came up with the refer & earn program where aspirants can refer their friends and group members and earn referrals. It's a win-win situation for both of us and fulfills our dreams.
The more you refer the more you earn.
How to Refer?
First, you need to register yourself, and then only you can refer your friends. Valid referral details are a must to have for getting a referral bonus. Below are the steps to refer your friends:
Share your registered email address with your friend.
Ask him/her to open the registration page.
Remove DIRECT and give your email address in the Referrer Details section.

How much do I earn?
Upon successful registration of your friend, we'll share 20% of the registration amount. In this way, you can earn Rs. 200/- on Rs. 1000/- registration fees.
Keep practicing, earning, and keep referring to as many friends as you can, and keep earning cash as much as you can.
Where I can refer?
Share your link on all your social accounts-post & story
Share your link on all WhatsApp groups you are part of especially college & coaching groups
Make a broadcast list of all friends on WhatsApp who you think will be interested in this contest
Share your referral link on all Facebook groups you are part of
Referral Credit
Instant payout will be shared with your UPI Sender / mobile number, once we approve your referral friend's registration. In case of any difficulties, we'll send an email to your registered email address with us.
User Account Validity
User Account is valid for 3 months from the date of registration. Once the account is reactive post expiration of the validity period, the User needs to re-register to avail of the referral benefits.