The latest SBI PO 2022 Notification is inviting candidates to register for the SBI Probationary Officers Exam for the post of Probationary Officers. In this article, we'll cover all the important information from the SBI PO 2022 Notification.
SBI PO is an exam for the clerical cadre post in the State Bank of India, and the exam is conducted by the Institute of Banking Personnel Selection (IBPS) which is an autonomous body that receives the mandate from participating banks.
SBI PO 2022 Notification is out for this exam which will be conducted for the post of Customer Support and Sales in the State Bank of India.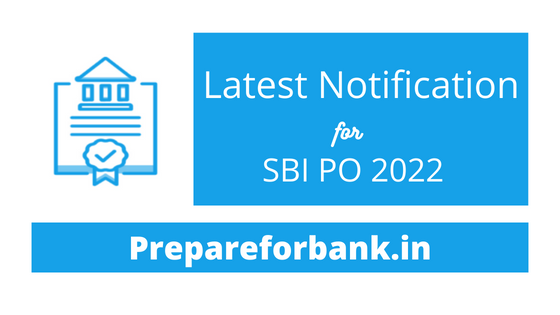 Latest SBI PO 2022 Notification
The latest SBI PO Notification 2022 is released by SBI for PO Exams. Candidates aspiring to take the SBI PO exams should register themselves at SBI PO Link.
Exam Registration
The registration process for Clerk Exams is given in the Latest SBI PO 2022 Notification. Candidates should go through it thoroughly before applying for any post.
The last date of Registration is 12-10-2022.
Exam Fees
As per Latest SBI PO Notification 2022, registration fees for this year have been revised and increased. For SC/ST/PWBD Candidates' registration fees are NIL and all others are required to pay registration fees of 750/-
Registration fees are non-refundable and candidates have to bear any online transaction charges.
Exam Syllabus
The SBI PO Exam syllabus is discussed in the SBI PO Syllabus article. SBI notification doesn't have a syllabus for the exam, but from the general trend of exams, this syllabus is prepared.
Prepare & Practice
Test yourself with a similar set of questions asked in SBI PO Click Here.
Detailed Notification
The detailed advertisement of this SBI PO Notification 2022 can be found on the SBI Career or click here.